Small Animal MRI Imaging Experiment Service
Instruction manual
First Edition (Revised on April, 2016)
Information
Small animal magnetic resonance imaging (MRI) is not just used to inspect the brain and neurological system. It is a new type of high-tech imaging in recent years. (MRI) can be used for almost any part of the animal body tomography. The MRI data is more authentic and credible as the same group of test subjects were recorded at different time, it tracks the movement and change of the same target. The technology has been increasingly widely used in all areas of preclinical disease research, such as Cancer, cardiovascular disease, neurological diseases, inflammatory diseases, immunology, stem cells and etc.
Service Content
√Diagnosis of small animal nervous system, Tumor, infarction, bleeding, etc.
√Inspet small animal heart disease, lung cancer, heart vascular disease, mediastinal mediastinal mass
√Tomography for Nasal cavity, sinus, throat and other parts.
√Diagnosis the lesions of animal bone joint and muscle lesions, uterus, ovary, bladder, prostate, kidney, ureter and other soft tissue organs.
Service Procedure
1. Customer transport small animals to our company or our company provide the experimental animals. Determine if a contrast agent is required according to the characteristics of the imaging site.
2. Perform magnetic resonance imaging (MRI) according to customer requirements, provide to customer image pictures.
Imaging Instrument
7.0T Micro-MRI from Bruker in Germany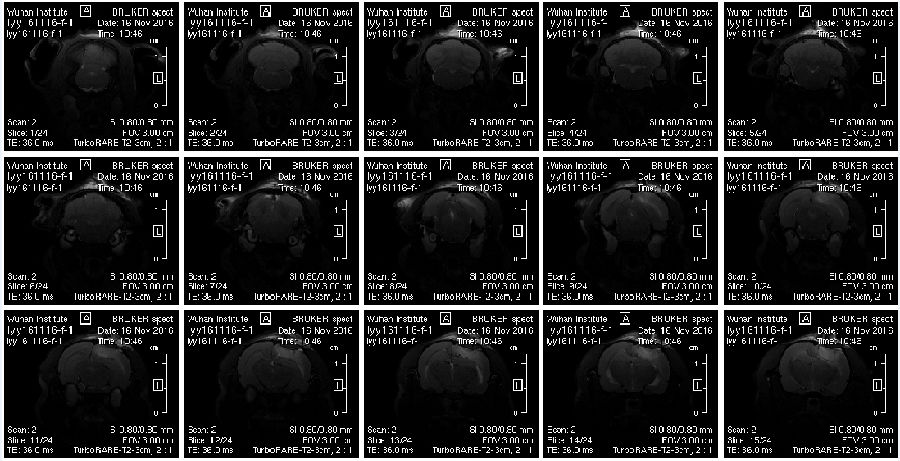 Fig. MRI image of Rat Brain
Customer Providing
Experimental animals, the specific requirements of animal experiment, contrast agent(according to the characteristics of the imaging site)