Small Animal Ultrasound Imaging Experiment Service
Instruction manual
First Edition (Revised on April, 2016)
Information
Ultrasound imaging is transmitted by soft waves in soft tissue, it is widely used in clinical because of its non-radiation, simple operation, the image intuitive, cheap and other advantages. Animal ultrasound images are dedicated to connect small animals B-ultrasound and capture images. It is applied to research for Cardiology, Oncology, Reproduction and Development, Neurobiology, Stem Cell Research, Pathological Toxicology, Pharmacology, Nano Biology, Ultrasound contrast agent and other fields of small animal living imaging research.
Service Content
Small animal ultrasound greatly improved the clarity to compare with medical ultrasound. It can meet the imaging analysis of various organ disease for rat, mouse, rabbit, dog and other animals.
Service Procedure
1.Customer transport small animals to our company or our company provide the experimental animals.
2.Perform ultrasonic testing according to customer requirements, provide to customer image pictures and test data.
Imaging Instrument
Small animal ultrasound imaging system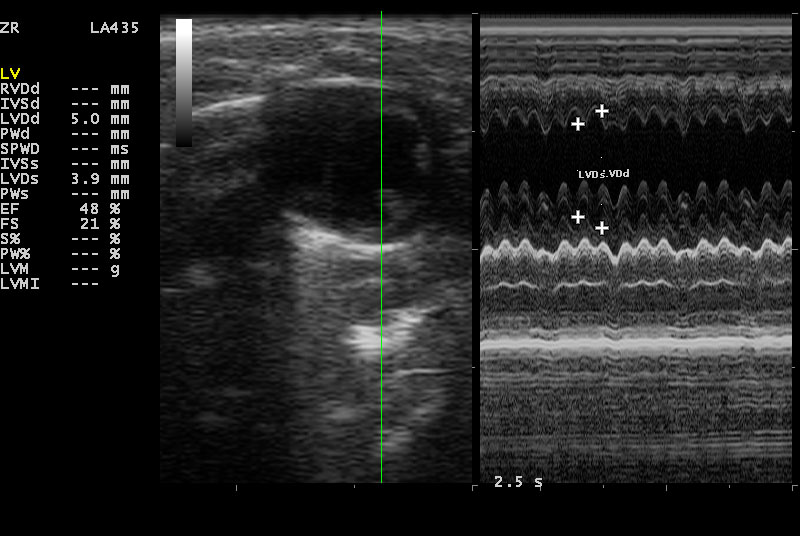 Fig.Ultrasound image of C57BL/6 mouse heart
Customer Providing
Experimental animals;
The specific requirements of animal experiment.