Streptavidin-HRP
Instruction manual
First Edition (Revised on April, 2016)
[PRODUCT INFORMATION]
HRP-labeled Streptavidin is named HRP-Streptavidin or Streptavidin-HRP. It is commonly used in detection systems utilizing biotinylated antibodies, and other biotinylated molecules, as streptavidin is a tetrameric protein from Strptomyces sp., it could bind tightly to biotin. This product is documented for use in a variety of common applications including Enzyme-Linked ImmunoSorbent Assay, Immunohistochemistry, Western Blot, In Situ Hybridization, etc. And It can catalyze TMB to become blue at ELISA and DAB to produce brown precipitation at Immunohistochemistry, Immunocytochemistry, or Western Blot.
[PROPERTIES]
| | |
| --- | --- |
| Source | HRP conjugated recombinant protein |
| Traits | Liquid |
| Concentration | 0.1mg/ml |
[USAGE]
This product can be used in Enzyme-Linked ImmunoSorbent Assay (ELISA), Immunohistochemistry (IHC), Immunocytochemistry (ICC), In Situ Hybridization (ISH), Western Blot (WB), etc. Commonly used concentration is shown below for reference:
| | | | |
| --- | --- | --- | --- |
| ELISA | IHC/ICC/ISH | WB | Southern/Northern |
| 1:1000-2000 | 1:1000-2000 | 1:2000-5000 | 1:2000-5000 |
[STORAGE AND PERIOD OF VALIDITY]
Store at -20℃. The shelf life is 1 year. Avoid freeze / thaw cycle.
[IMAGES]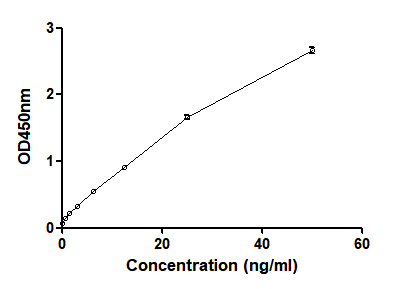 Figure 1. ELISA. The wells were coated with anti-OVA antibody (MAB459Ge21) at 2μg/ml, OVA were added starting at 50ng/ml and gradually diluted with 1:2, anti-OVA antibody (LAB459Ge71) was then added at 1μg/ml. Streptavidin-HRP (IS089) was used at 1μg/ml for later color development.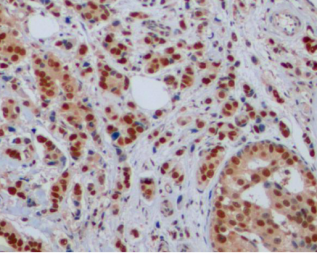 Figure 2. Immunohistochemistry of Proliferating Cell Nuclear Antigen (PCNA). Human breast section was pretreated by using Microwave oven heat antigen retrieval, and then it was incubated with anti-PCNA Antibody (CAA591Hu22) at 5μg/ml. Biotin-labeled goat anti-mouse secondary antibody (SAA544Mu17) was added at 1μg/ml, and followed by Streptavidin-HRP (IS089) at 1μg/ml. DAB was used as chromogen. The tissue section was then counterstained with haematoxylin and sealed with resin.
[IMPORTANT NOTES]
1. Sodium azide will inhibit the activity of horseradish peroxidase (HRP), so don't add sodium azide into solutions.
2. This product is research use only, it can not be used for clinical diagnosis or treatment..
3. For your safe and healthy, please wear lab coat and disposable gloves.