Asparaginyl tRNA Synthetase 2, Mitochondrial (NARS2)
[Edit]
AsnRS; Asparaginyl-tRNA synthetase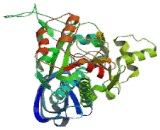 By searching databases for aminoacyl-tRNA synthetases containing a mitochondrial targeting sequence, Bonnefond et al. (2005) identified NARS2, which the called mitochondrial ASNRS. The deduced 477-amino acid protein has an N-terminal mitochondrial targeting signal with a predicted cleavage site after residue 14. NARS2 has characteristics of a class II mitochondrial aminoacyl-tRNA synthetase and is expected to function as a dimer.
Bonnefond et al. (2005) determined that the NARS2 gene contains 14 exons and spans 137.8 kb.
By genomic sequence analysis, Bonnefond et al. (2005) mapped the NARS2 gene to chromosome 11.
Organism species: Homo sapiens (Human)
Organism species: Mus musculus (Mouse)
Organism species: Rattus norvegicus (Rat)