Mouse model of cerebral ischemia-reperfusion injury
Along with the formation of USCN Experimental Animal Inc. and Cloud-Clone Diagnostic Reagents Institute, the company's services have been widened. With the technology platform of institute and the animal resource of animal center, hundreds of animal models, can be provided, including animal models of human disease, tumor transplantation animal models and transgenic animal models. The serum, blood cells, tissues and organs of healthy or diseased animals can be extracted, so the quality control of detection reagentsand hundreds of primary cells can be provided. Several animal experiment services can be offered, such as experimental animals raising, strain purification, group building, germplasm resources preservation, embryo freezing and in vivo imaging. Cell-related experiments such as cell culture, transfection, cell proliferation, infection and apoptosis also can be provided. Furthermore, CRO of drug screening, pharmacokinetics, toxicology and pharmacology can be provided.
In order to let you better know the new business of Cloud-Clone Corp., I will take the middle cerebral artery occlusion model as a example to introduce in detail.
Middle cerebral artery occlusion (MCAO) is the most commonly used in model of focal cerebral ischemia. MCAO model blocked the external carotid artery (ECA) and its branches, and blocked the pterygopalatine artery (PPA), so the extracranial circulating blood was cut off.
In order to establish model successfully, we selected C57BL mice (male, 11-12 weeks, 25-30g) as the experimental subjects, the mice were divided into two groups, one group is the negative control group, another group is the MCAO model group.
When the animals are ready, we began the MCAO procedure:
Several common labeling methods were introduced for everyone below:
1. Preoperative preparation: The mice were anesthetized by 3% pentobarbital sodium, their hairs were removed, after disinfection, the rectal probe was inserted, the body temperature was maintained at 37±0.5℃.
2. Establishment of MCAO model: scissor the skin of neck, separate the common carotid artery, internal carotid artery and external carotid artery. Cut a small opening on the left common carotid artery, a 0.18mm line embolism which was head-end treated was inserted to internal carotid artery, it through the carotid artery reached 9±1mm depth of the internal and external carotid artery bifurcation. There is a slight resistance then we stop to enter the line. The line embolism was unplugged after ischemia in one hour, the skin was sutured, the mouse was put on the heating pad. After they awake, put them into the incubator. In the whole process,the rectal temperature of mice must be maintained at 37±0.5℃
3. After 24 hours, the mice were anesthetized, and the brain was taken out for the following experiment.
24 h after opereation, we can get the result of TTC staining of negative control group (group A) and MCAO model (group B)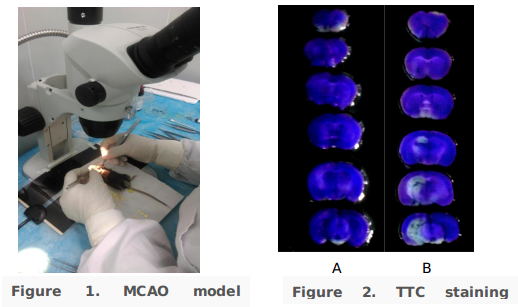 Cloud-Clone Corp. has carried out animal disease modeling services. The model of different species, different lesions can be built according to your demands. Hope this convenient, simple and time saving service can bring you a better user experience!

For more relevant products, please visit www.cloud-clone.us/.