The battle of PD-1/PD-L1 and cancer cells
PD-1, also known as programmed cell death protein 1, is a protein that is encoded by the PDCD1 gene. PD-1 has two companions: one is known as PD-L1, the other is PD-L2. Both of them are the ligands of the PD-1. PD-1 is mainly expressed in immune cells, PD-L1 is expressed in cancer cells, and PD-L2 is mainly expressed in the dendritic cells. Compared to the PD-L1, the expression range of PD-L2 is relatively narrow, and the research of PD-L2 is less. So we mainly introduce the PD-1 and PD-L1 this time.
First of all, let us look at the relationship between cancer cells and PD-1/PD-L1.
The shut down of T-cell-mediated immune response is one of the ways that cancer cells evaded from body's immune system. One of the reflecting form is the T-cells activation and proliferation are inhibited by the combination of PD-L1 and PD-1. PD-L1, which is expressed in the cancer, can bind to the PD-1 that expressed in the T-cells, then the T-cells apoptosis were promoted, cytokine expression and secretion were regulated, the attacked of cancer cells will be unbridled (Figure 1).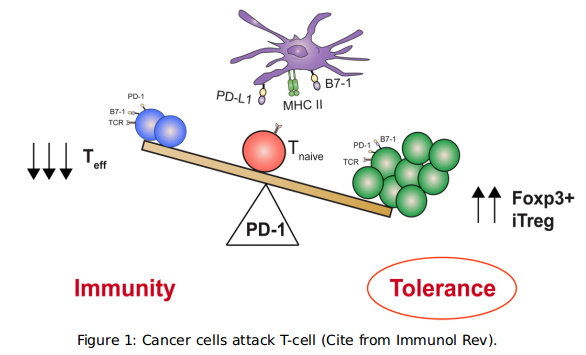 How to deal with this tough situation?
Clever scientists take advantage of the PD-1 and PD-L1 blocking antibodies which targets PD-1 or its ligand PD-L1. The combination of PD-1 and PD-L1was blocked by the corresponding antibody, so the immune response of T-cells was enhanced, cancer cells were taught a lesson by T-cells. It has been reported that these two antibodies play an important role in a variety of cancer cells. Such as in the battle of PD-1 antibody/PD-L1 antibody and lung cancer, kidney cancer, stomach cancer, colon cancer, ovarian cancer, breast cancer, blood tumor and brain tumor, PD-1 antibody/PD-L1 antibody has been victorious.
Thus it can be seen that the immune regulation which targets PD-1 or PD-L1 has an important role in anticancer, anti-infection, autoimmune disease and ograft rejection reaction, etc. As a new type of anticancer immunotherapy, PD-1/PD-L1 immunotherapy has been paid much attention and widely researched. The purpose is to make full use of the body's own immune system to resist or to fight cancer. The cancer cells dead after blocking PD-1/PD-L1 pathways, this method has the potential for the treatment of multiple types tumor.
Since the study of PD-1 and PD-L1 is so hot, Cloud-Clone Corp. is also involved.
Cloud-Clone Corp. has developed the PD-1/PD-L1 related products. For PD-1, including RPA751Hu01, APA751Hu01, PAA751Hu01, MAA751Hu21, SEA751Hu, RPA751Ra01 and PAA751Ra01. For PD-L1, including RPA788Hu01, PAA788Hu01, MAA788Hu22, SEA788Hu, SCA788Hu, RPA788Mu01, RPA788Mu02, PAA788Mu01, PAA788Mu02, SEA788Mu, RPA788Ra01 and PAA788Ra01.
For more products, please visit: http://www.cloud-clone.us/