Vulnerability of progeroid smooth muscle cells to biomechanical forces is mediated by MMP13

On August 17, 2020, professor Lino Ferreira from University of Coimbra published a paper titled Vulnerability of progeroid smooth muscle cells to biomechanical forces is mediated by MMP13 on Nature communications.
The ELISA kit (MMP13, SEA099Mu) of Cloud-Clone brand was chosed to determine the concentation of MMP13 in this article, we are so proud for supporting the reaserchers.


Hutchinson-Gilford Progeria Syndrome (HGPS) is a premature aging disease in children that leads to early death. Smooth muscle cells (SMCs) are the most affected cells in HGPS individuals, although the reason for such vulnerability remains poorly understood. In this work, we develop a microfluidic chip formed by HGPS-SMCs generated from induced pluripotent stem cells (iPSCs), to study their vulnerability to flow shear stress. HGPS-iPSC SMCs cultured under arterial flow conditions detach from the chip after a few days of culture; this process is mediated by the upregulation of metalloprotease 13 (MMP13). Importantly, double-mutant LmnaG609G/G609GMmp13-/- mice or LmnaG609G/G609GMmp13+/+ mice treated with a MMP inhibitor show lower SMC loss in the aortic arch than controls. MMP13 upregulation appears to be mediated, at least in part, by the upregulation of glycocalyx. Our HGPS-SMCs chip represents a platform for developing treatments for HGPS individuals that may complement previous pre-clinical and clinical treatments.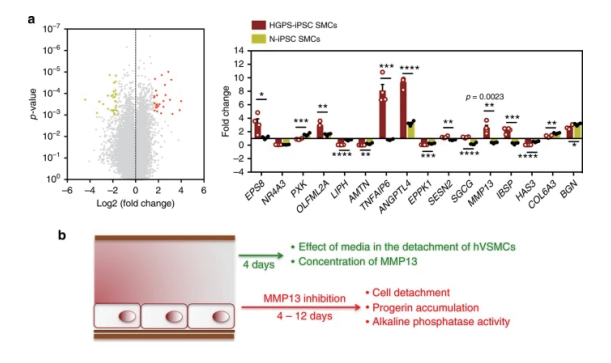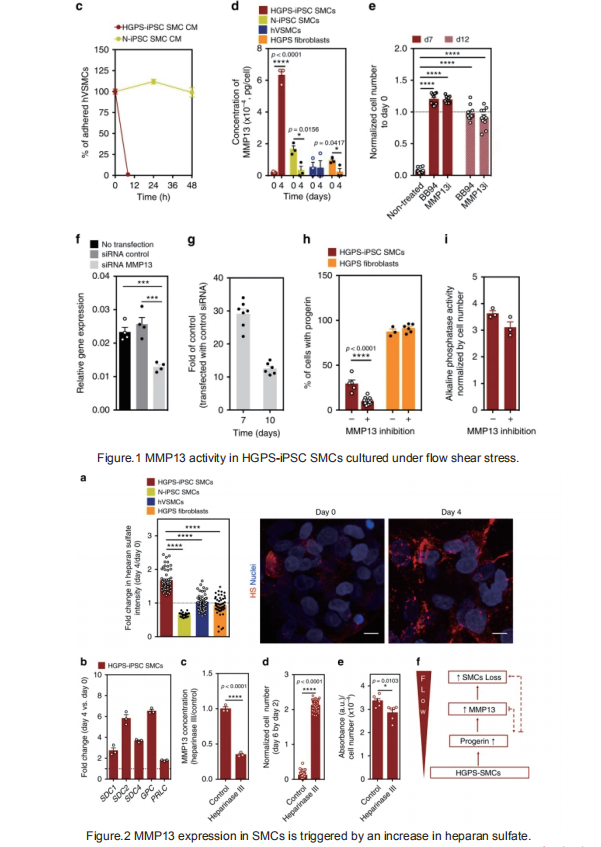 Matrix Metalloproteinases are endogenous proteases that require zinc and calcium to express catalytic activity.These enzymes play a central role in the maintenance and reconstruction of the extracellular matrix.MMPs is associated with a variety of degenerative diseases, including arthritis, cardiovascular disease, bone growth plate disorder, and cancer metastases.The mechanism of MMPs in tumors is complex and plays a role in multiple stages of tumor genesis, growth, angiogenesis and metastasis.